Parkview Lanes
Bowling In Canada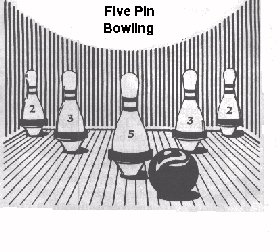 #1 - DUCK PINS: is the most popular form of bowling in the Province of Quebec. It is also commonly played along the eastern coast of the United States and the Philipines.
#2 - CANDLEPIN: is played exclusively in the Maritime provinces of Nova Scotia and New Brunswick.
#3 - TEN PIN: is popular in Canadian cities that border with the United States and is perhaps the most recognized style of bowling worldwide.
#4 - FIVE PIN: is, by far, the most popular game of bowling played throughout Canada. More people participate in Five Pin, in this country, than in any other sport... even ice hockey!